Praise and Play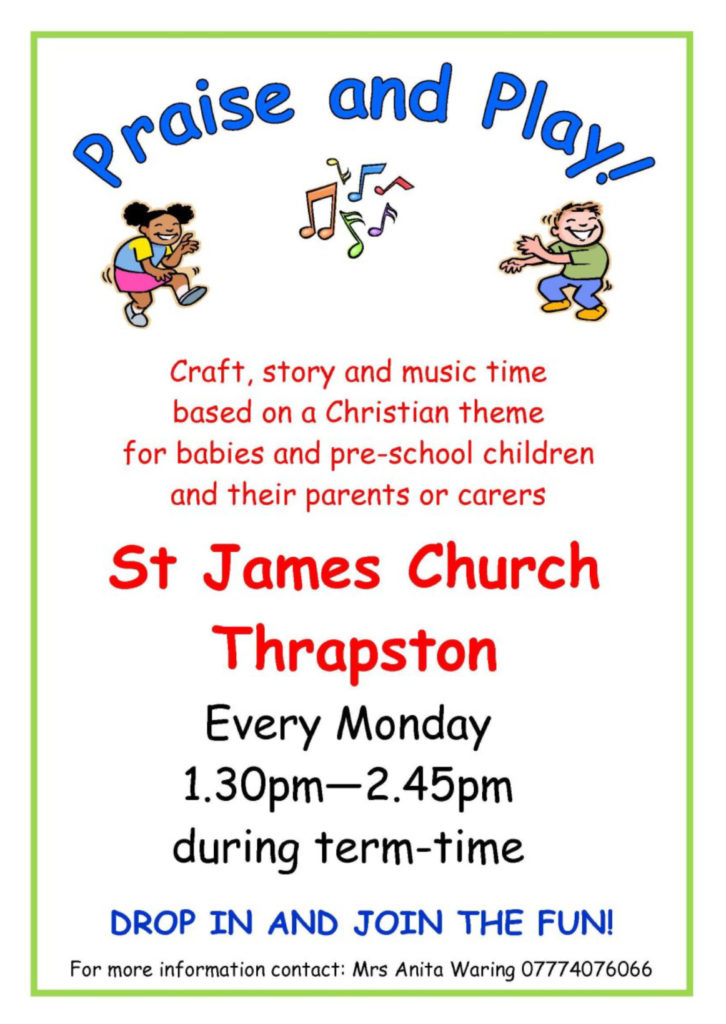 Praise and play is a group for babies, pre-school children and their parents or carers. We meet weekly during term time in St James Church Thrapston, on Monday afternoons between 1.30pm and 2.45pm.
During each session we play, chat, do crafts and have a story and music time based on a Christian theme. You don't have to be a Christian or church attender to come, everyone caring for babies or young children is welcome.
See the calendar to find out when the next Praise and Play is happening.
Message from the Praise and Play Team during the Coronavirus Pandemic
Sadly, due to the current situation, we are unable to meet together for the foreseeable future.
Whilst many of us are spending more time at home, you may like to continue learning Bible based stories with your children. During our sessions we often read the true stories from The Beginners Bible. They have a website which has videos, loads of free colouring sheets to print, free worksheets for older children and games to play on line and to print out too. There are also lots of videos on YouTube if you type in – The Beginner's Bible. Maybe you could watch a video together and then have fun doing a colouring sheet or activity linked to the story.
There are also web sites that have craft activities ideas for children that are based on bible stories e.g. Pintrest- Bible crafts for kids, dltk- bible, and many others.
If you have primary school age children too you may find the app- Godforkidsapp.com useful for them.
We look forward to being able to meet with you all again in the future and pray that you stay safe and well.
May God bless you all.
The Praise and Play team